Designed & Built in Britain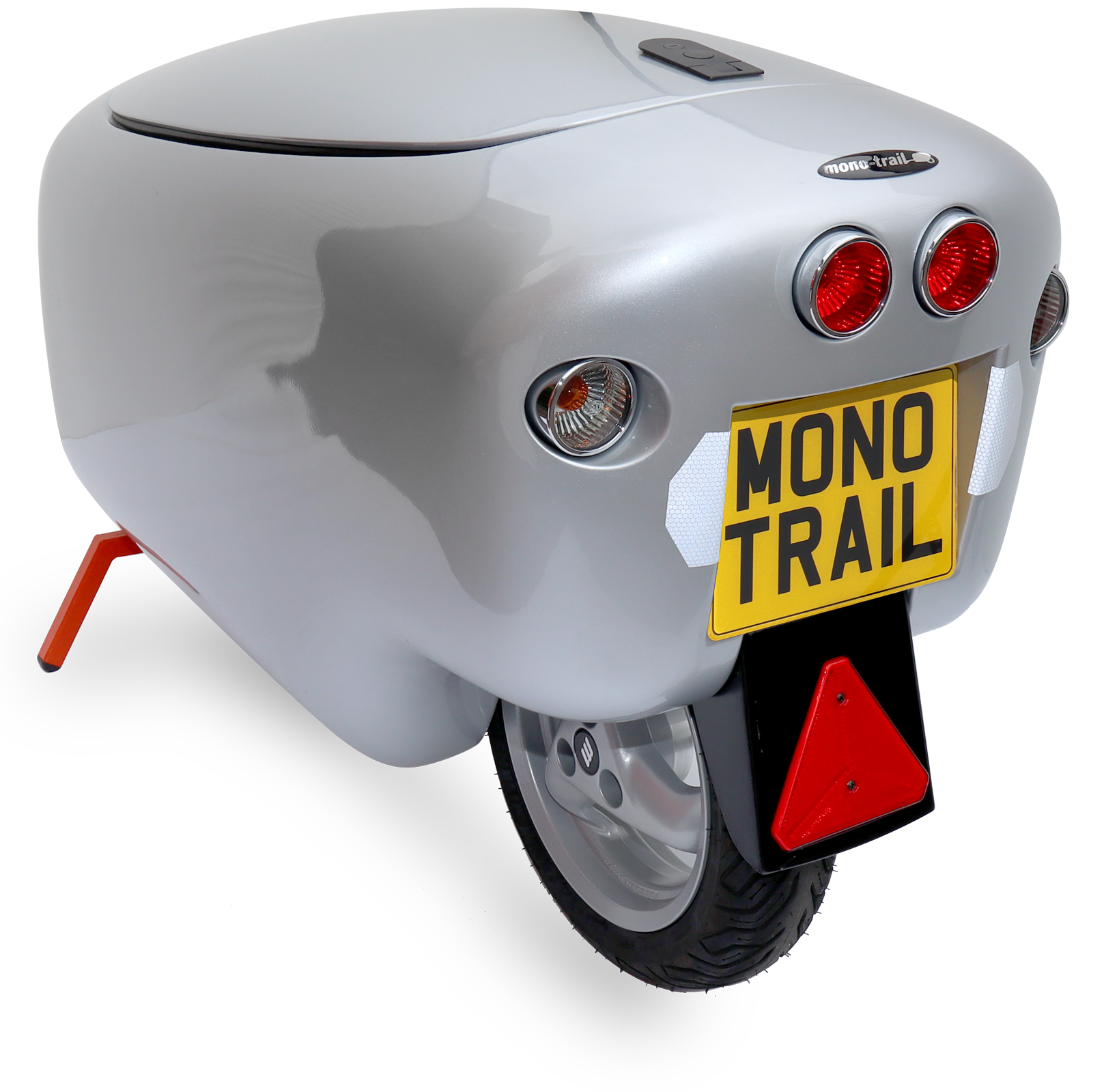 TourMax
(GRP Body Construction)
…with sleek lines
TrailMax Adventure Trailer
(Alloy Body Construction)
…the Adventure Trailer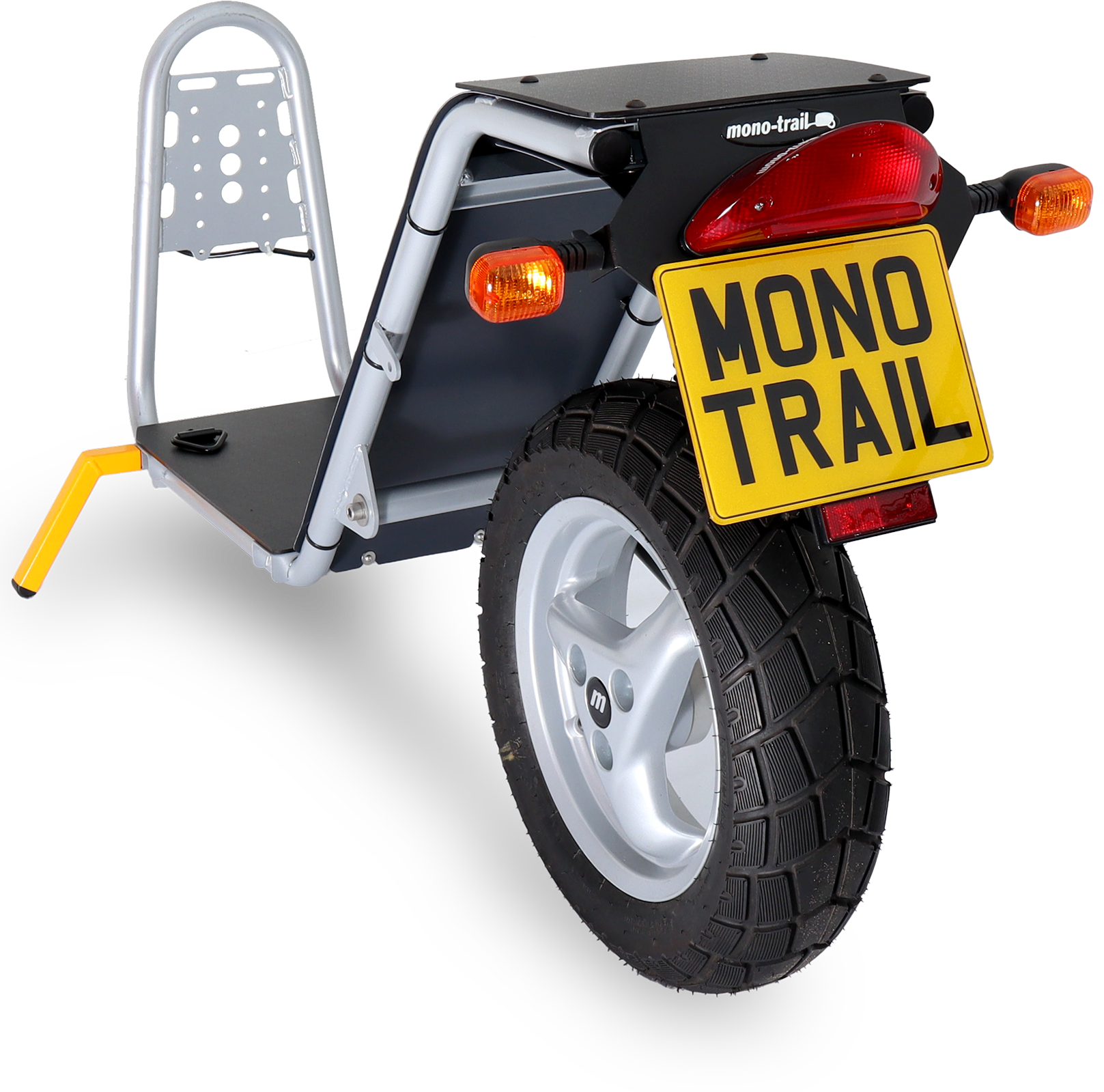 RackMax
…a light-weight stripped-back option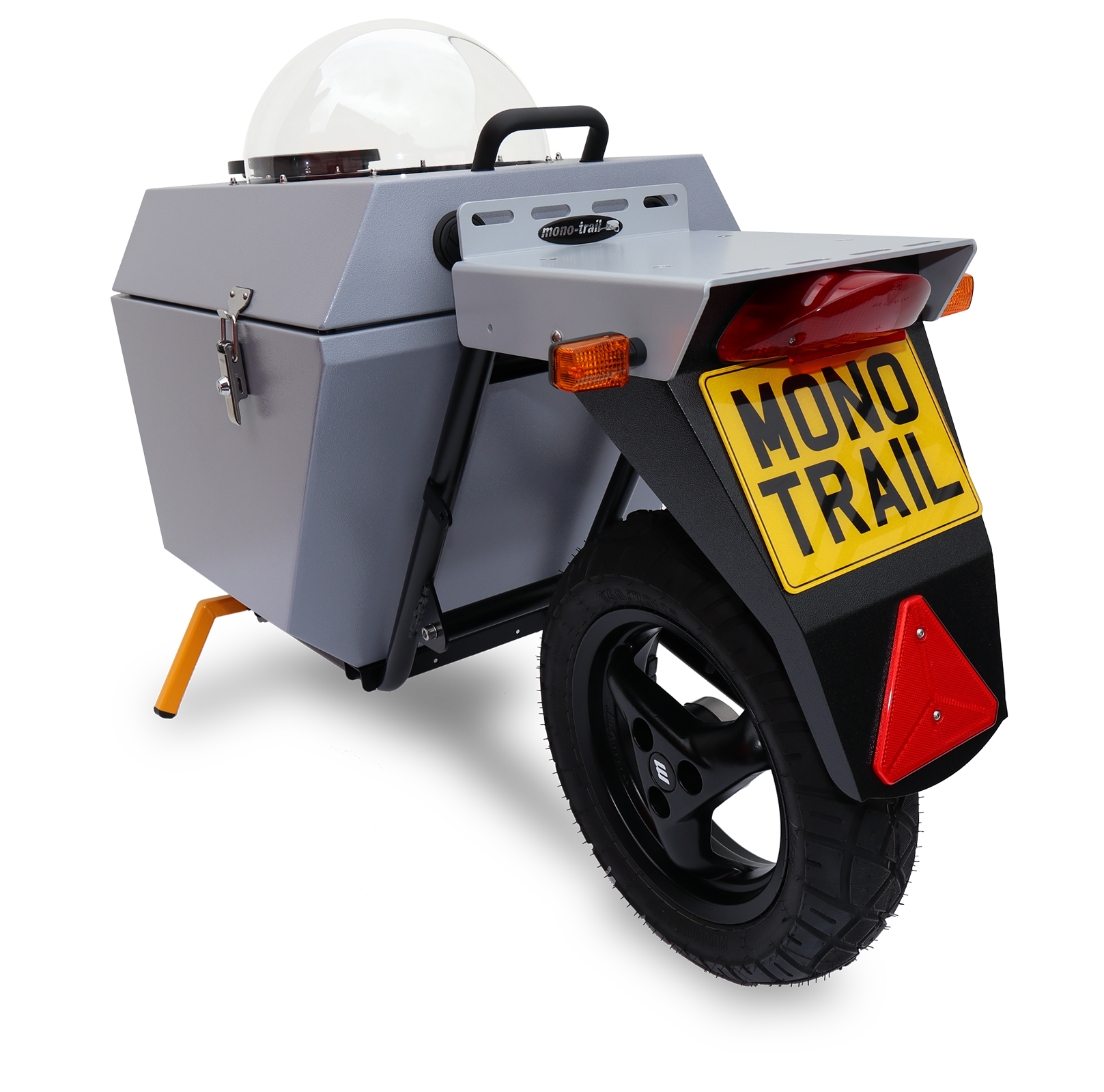 PetMax
…for those wanting to take their 'best friend'
We all spend a fortune on panniers, top boxes, tank bags – just so we can use our bikes more and do some touring either on our own or two up. They never seem to hold enough though. Then there's all the extra weight high up on the bike which now feels awful to ride and all the brackets – some which you need to cut bits of your body away to make room for… Alternatives? – Tow a Motorcycle trailer? – Yeah right – get real – I don't think so!! – that is, not until we saw a single wheel motorcycle trailer on the back of a bike. Ooooh – this looked the business, no wider than the bike, you can still filter, NO luggage on the bike – and it follows the angle of the bike through the corners – just hitch it up and go! Neat! If it just had a better neater quick release hitch and looked better…
One thing lead to another and Mono-Trail was born. Nearly three years of design and testing later we launched the TourMAX in 2009, the first in a range of single wheel motorcycle trailers. A great looking high "quality" fully road legal single wheel trailer or that will sit on the back of a sports / tourer / custom bike and will swallow all your stuff and even pull a crowd around your bike going "wow". Just imagine. Off camping or touring? Want to travel around Europe – and bring some souvenirs home? Simply bung all the stuff in your Mono-Trail and off you go! Easy. Go touring – park up, and go exploring. No worries about kit strapped to the bike being nicked. Go camping, B&B's or in hotels – you can even leave the trailer in the porch of the tent. Alternatively take your Mono-Trail with you and you will have somewhere to lock your helmets and have a change of footwear and clothes whilst you go off exploring. Perfect!
Oh, and one other thing – that tent that you really liked and the airbed you always wanted to take with you – but was all just too big or heavy to fit on the bike – it's not now !!
I have owned my Mono-trail for five years or more now. I use it to travel to rallies with my wife, (as much wardrobe as she can fit in!). Only kidding!!! I was fed up strapping bags and bits and bobs to the bike and I came across the mono-trail website and my outlook and biking experiences changed for the better.
My bike is not a tourer as you can tell from the pics but, it will do the miles with the mono-trail as good as the best of them. With the trailer and air suspension on the rear of the bike, it is completely comfortable at motorway speeds, two up and loaded. Not noticeable and filters traffic with ease. I am seeing 52.9 MPG @ cruising speed, (thats as close to a speed as I will admit in writing).
The only time you will notice towing this trailer is slow speed driving in towns etc.
The way the hitch is designed is a dream. Secure, easy to use and a perfect fit, no clunks or clanks from the tailer connection as the design means a snug even coupling with no play.
The one thing I would advise is, make sure you distribute the payload weight evenly in the trailer as it may lead to a wobble at speed. I have had this once and checked my trailer adjusted some things and it was perfect. This is a very stable platform if prepared sensibly. I have done silly speeds with this trailer and it's as stable as can be.
If you are looking to invest in a compact well designed piece of British engineering for your motorcycling adventures. The mono-trail is top notch. Not much more i can say really. I love mine!
– Andy Burns